Work Wisdumb: To most people, my career looks like a race for the people with no sense of direction. It's a colorful mish-mash including retail, Texas Senate page, radio & disco DJ, telephone installer (yes, I can climb a pole), franchise sales guy and of course, headhunter.
Four plus decades of trying to find financial and emotional satisfaction where achieving one typically meant sacrificing the other…until I stumbled upon the job I was born to do and found a way to achieve both. I followed my vision, but it wasn't necessarily a vision capable of reading much past the first line of the eye chart. My success was fueled by dogged tenacity and 80's materialism.
My path is unusual among my peers. Historically their well-worked-careers are characterized by steady upward progression in title, responsibility and pay. Their professional destiny is like a train station ; chose your destination and get on the train headed there. It's a point A to point B route and while you can get off at any one of many stops to hone a few new skills; eventually you'll get back on the train to reach your desired final predetermined destination.
But going forward careers will be more about building skills and lateral moves in roles where impact can be created and deposits in one's emotional bank account are more important than the financial one. The twenty to thirty-something Managers you're hiring today see their career path more as a dirt road with an unknown destination hiding behind the clouds. Their "train" is replaced by a motorcycle, a vehicle that represents their freedom to choose highways, city streets or dirt roads as they design what they want like their ordering their local free range gluten free no GMO pizzas. The joy of it all is the mystery of their final destination that's hiding behind the clouds in front of them. More like "…where will this take me?" instead of "…this is where I'm going."
Their map isn't as much about the destination as it is the journey – they've traded what they consider an unobtainable "Great American Dream" for a little of this, a little of that and "oh, this looks fun." What's important to them is today because tomorrow will only be defined by a successive stream of todays instead of a predetermined desired outcome crafted around a vision of what they want tomorrow to be.
There's a new challenge in bridging this generational gap -- recognizing it and managing to a new set of priorities is essential for everyone's success...and the success of the business.
Of course, this is only my opinion but it's one I value highly.
Gigs:
As of this writing I have two very confidential searches underway including a VP of Information Technology and a VP of Development. Location & comp and a tiny bit more can be found by clicking here. Your confidentiality is important to me too.

Here's how I like to work with confidential assignments. Let's have a conversation and discuss what kind of opportunity would be significantly better than what you're doing today. If the position I'm recruiting for falls into that category I'll have a conversation with my client without revealing your name -- assuming they feel the same, then we can both share names and more details about my client and your career.

That's just one of the benefits of working with a recruiter...call me if you need a few more!
LinkedIn-now more than ever!
Your LinkedIn profile is just as (if not more) important than your resume -- and they better match! Dates, titles and all the content should mirror what's on your resume. And while it is a great tool for job hunting, it's also a great tool for "job doing" if you're good at networking with peers, suppliers, consultants and companies that make you more effective at creating measureable results!
Cool Concepts: I was amazed to learn that average daily sales are $17-19K. The Halal Guys began on the street and now have "stores" with an easy to manage menu.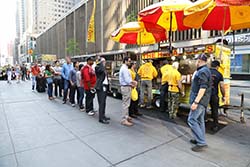 Lines like the one above are not "peak period," they're all day long. Price points are reasonable and the appeal is massive for both vegans and omnivores like me. The menu is simple, easy to manage and I hear the food is great -- classic Halal! Franchising in a city near you!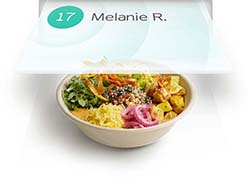 Eatsa It's the new age "auto-mat" and it's all veggies! There's a concierge directing people to order from and iPad and no other "bodies" are in sight. Y ou can design your own bowl or order from the menu. Your name magically appears on a big screen above the cubby (which also has your name) that holds your bowl. The Burrito Bowl was fantastic, big Portobello mushrooms gave a meaty flavor with rice and beans to fill me up -- $8 -- and super, super healthy
Career Food: Hashtags -- it's a love/hate relationship for me. I love what they do but they're often overused and abused. Here's a few pointers to make your hashtags more effective: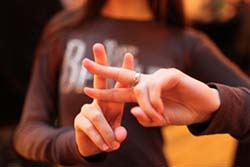 Keep it simple, brief, easy & memorable

Be original not #GreatPizza but #FreshBurrattaPizza

Double check to avoid double meanings

Use capitals for each word, it's SoMuchEasierToRead

Keep it short, alliteration could be your friend like #PerfectPizzaPairings not #BestWinesWithPizza-

Be specific - generic terms like #burger, #delicious don't augment, amplify, connect or compliment

Be succinct, 3 hashtags max and never more than 3 words together

Be accessible, #PorkStuffedCabbage and not #PetitsFarci

Use tools like Tag Board, Rite Tag or Rebel Mouse to collect and collate
New to Newz..? If this is your first exposure to my pithy misssive, welcome to my world wide web of work. I'm an executive recruiter for the restaurant and retail industries. My clients run the gamut from coast to coast and you'll find my placement footprints in marketing, technology, franchising, development, human resources, operations, finance and the occassional title that begins with C and ends in O. Visit me at the web site below to get better acquainted.
1-800-Ken Loyd (536-5693)

Now, get back to work...!