Work Wisdumb: How to answer a headhunters call ...Cultivating a relationship with a recruiter is one of the most powerful tools in your networking arsenal. You are networking aren't you?
Part of your job is to stay up to date with current trends in your industry AND in your job function. Time spent with competitors, vendors and at industry events is invaluable. And when a headhunter calls, the value goes up ten fold, assuming of course you know how to make it work for you.
Take the call and sing the first verse of every headhunters favorite song: "Let Me Close My Door." Then put yourself in an objective listening position and get ready for a little back and forth screening.
Take a little time and get to know the recruiter, ask about their business and what industry or skills they're known for. A short list of clients and representative placements will quickly tell you if this is someone you want in your datasphere.
Give them a two minute elevator speech about your background in exchange for the same from them about the search they're working on. If it doesn't sound like there's a fit, offer any referrals you may have and be sure to exchange contact information.
Following up with a thank you e-mail will be sure to keep you on the headhunters desktop and referrals mean you'll hear from them frequently about relevant searches. Recruiting is a relationship business that's built over time...and you just never know what's next in the world wide web of work.
Next month: Dispelling the myths of job hunting...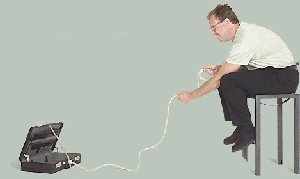 Gigs...All my indicators tell me the fall hiring season will be brisk and competitive. Current searches underway include
Operators For Equity... Multiunit restaurant operators need only knock on my door for positions in Colorado and the Mid-Atlantic states. Coming soon to Atlanta, Florida, Illinois and a corner near you.
Controller of Cool...100+ unit grab 'n go concept in "re-start" mode with deep private equity backing. All the debits and credits you can eat in a fast paced, hi-growth space. No three letter acronyms (CPA/MBA) required, but highly desired.
Analysis w/o paralysis ...finance role way beyond reconciliation's, you'll be working across multiple departments in marketing, development and operations
Technology top-slot...report to the CFO and be a key player in a publicly traded brand with a development pipeline that's rapidly filling. No big budget boundaries as long as you can justify an ROI.
Marketing Matters...positions now available in the midwest and southeast at the Director and Manager levels. Fluency in Franchiseese will flatter me forever.
So as you gaze into the mirror, ask yourself: "Who do I know, even if they're not looking, that would like to kick their career up a notch?"
www.kenloyd.com | kl@kenloyd.com
1-800-Ken Loyd (536-5693)