Work Wisdumb: Six myths that will keep you unemployed ...The job market is dynamic and the road rules change about as often as cabinet members at the White House. Here six myths that need to be dispelled
1. Resumes should be one only page. Hah! If you haven't done enough to fill two pages with interesting and quantifiable accomplishments make the font bigger or narrow margins -- better still; get busy!
2. Interviews without an opening are a waste of time. If your interest is genuine, you'll probably at least get a sit-down. It's good practice and an opportunity to build your network of relationships
3. If you haven't heard back, they're not interested. Follow up is key to managing any project, and your project is getting a job. E-mail, voice mail, snail mail -- call 'em back and remember branding "me" is key.
4. The most qualified candidate gets the gig. Nope...today it's more about "fit," how you work, communicate and your place on the team. Skills can be taught, but style is in your DNA.
5. Salary negotiation isn't an option in today's world wide web of work. Guess again, just remember salary isn't always paid 100% in cash and you might have to actually earn your compensation with results.
6. Times are tough, take the first gig you get. Assuming the IRS hasn't tapped your phone it's best to be selective...but also realistic; look beyond the bucks and review #4 above.
More cool stuph like this on the Rants page of www.kenloyd.com
Next month: Headhunter Ethics (aka: Another version of Jumbo Shrimp?)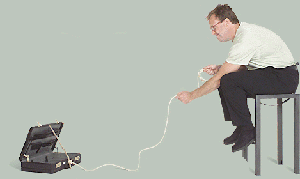 Gigs...September was a busy month and I'm anxious to finish the year with a big bang...and no, I'm not a member of the National Rifle Association...
Omniscient Operators... Two live searches are underway (CO & Mid-Atlantic) for a "Cool Concept" featured here and soon to be a "Hot Concept" for NRN. It's the CPK of the burger business -- but the average unit volumes are higher at nearly $3M. The kitchen is relatively simple and the food is outrageous. If you've been a DM or RM and are ready for full P&L responsibility and full control of your destiny then look no farther.
Accounting with Answers... Two count 'em, two positions for those Accounting Managers & Assistant Controllers ready to leverage their leadership, strategy and vision beyond the world of debits & credits. Both are high growth brands with phenomenal management teams and clients I've placed with before. CPA's & MBA's desired, but not necessarily required.
Dr. of Construction... Yet another of my "Cool Concept" finds is about to embark on a west coast expansion. The details are still being determined...and you should be equally determined to update your resume; this one will go fast. Buckle up bucko!
Other non-published gigs in process -- be sure to check in with me if only to update me on your whereabouts and whatupto's.
www.kenloyd.com | kl@kenloyd.com
1-800-Ken Loyd (536-5693)