Work Wisdumb : Every consumer has raised their value expectation -- whether it's dry cleaning, groceries or a car wash-- consumers expect more. The same should hold true for employers and their expectations of all their vendors...including recruiters.
The recruiter's role is changing and hiring authorities should be asking themselves just what exactly are you paying for when you enlist the services of a recruiter?
Historically our work was about filling an empty position, adding a new one or replacing an underperforming incumbent. Being the "out of the box" irreverent guy that I am, I suggest you get more bang for your buck and expect a recruiter to provide you with solutions AND the people to execute them.
It's not enough for us to be master networkers and flex our marketing might by simply running the numbers and making 100 phone calls every day. (Yeah...100 phone calls, every day). And it's not enough for us to be articulate and able to entice someone from one company to the next. Our role has evolved and so should the way companies think about hiring.
Instead of "We need to hire a VP of Marketing." Try thinking of it as:"We need to improve our marketing efforts." Your favorite recruiter is then challenged to assume the role of consultant and offer greater value in the form of not only who but what to hire. Here's the how & why.
Any great recruiter reviews resumes to not only learn about the candidate, but to also learn about their company. A candidate speaks of their accomplishments or failures and it then becomes the onus of the recruiter to interpret how those events translate to their client's needs. Does the success or failure of one company apply to the recruiters client company and if so, how?
You'll still need to know your recruiter has a big database to fish in, their method of effectively marketing your job product and most importantly the recruiters ability to recognize talent. Recruiter's shoud then add value by identifying a solution that each candidate is capable of executing.
Pardon the 90's buzz word flash back, but I'm asking you to shift your paradigm and telling you to expect more bang for your buck from people like me. My success in this arena is how I earned my title of Chief Listener. I hope you take advantage of that and put me to the test soon.
1-800-Ken Loyd (536-5693)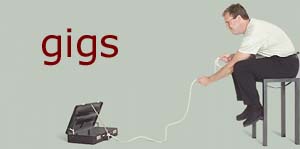 Gigs
: It's the first to go and the first to return; so in light of all the optimistic economic news I'll proudly tell you I'm working on a Marketing search -- details below as well as an interesting hybrid:
Director of Marketing ... It's a confidential search for a client I've placed with before. They're hot to trot for a strong LSM program and some social networking/text campaigns.
HR/GC?... What an amazing company and equally amazing culture. Just over 20 locations and four under development. And they've never had an HR pro. Speaks well for the brand, eh? This is a hybrid HR role with some legal generalities that warrant a call. I'll be waiting...
A resume in Word or PDF format begins the process and as always, I promise it will never go anywhere without your prior knowledge. My email link is below and be sure to link up with me on LinkedIn too.
Cool Concepts: This month we'll look at a new discovery, right under my nose but lost in the quagmire that is Los Angeles; and the rebirth of two mature brands that are smarter and more efficient.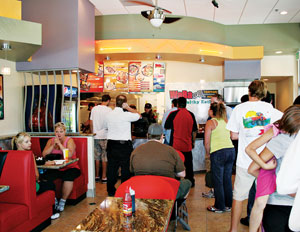 Waba Grill
is a true success story of three immigrants who've built something from nothing. The brand has "healthy" legs, super low build out expense and a very unique flavor profile. The founders are hip and already on the text/email promo path.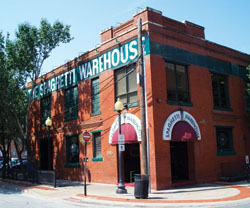 Cool Again? New owners of Spaghetti Warehouse have reconfigured the kitchen and menu for efficiency and excitement. The new owners are a 65 unit franchisee of a non-competing brand...safe to say they already know how to make money running restaurants.
And if you haven't already...revisit Shakey's Pizza. The brand has returned to its original core values in what I'll call a "pizza-tainment" format and sales are really popping!
Falling on my own sword department. My brief September Newzletter wishing you all a happy Labor Day weekend was full of spell-check handicapped typos -- something I often Rant about when it comes to resumes -- you know the "they're" vs. "their" and "your" vs. "you're" issues. Apologies for not practicing what I preach and kudos to the one individual that called me on it. I remain humbled and penitent.
On my nightstand and suggested reading for you...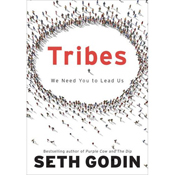 It's all about social networking and the power of the Internet to build communities...or brands? My synopsis of this book is that tribes need leadership. An excellent example of "the medium is the message," and results depend on who's leading the tribe. Click the image above for a sample and audio download.
New to Newz..? if this is your first exposure to my pithy missives, welcome to my world wide web of work. I'm an executive recruiter for the restaurant and retail industries. My clients run the gamut from coast to coast and you'll find my placement footprints in marketing, technology, franchising, development, human resources, operations, finance and the occasional title that begins with C and ends in O.

Now, get back to work...!