Work Wisdumb: Interviewing is an art, one we don't get to practice enough to truly call ourselves "artists." So we boil it down to an equation where the often sought but seldom realized "fit" balances both sides of the employer/candidate equation.
Finding "fit" is algebra. We're trying to solve an equation through a series of interviews where the unknown values of X & Y in a job description are identified as real numbers in a candidates skills & experience.
It's the onus of the employer to be sure that the interview is designed around what they want the candidate to do, not solely on what they've done. And it's onus of the candidate to "do the math" in the interview by giving the employer examples of what they'll do and not just list what they've done.
Interviewing and hiring are the algebra of results. The unknown values of X & Y in a job description are substituted for real numbers of a resume AND how articulately the candidate "proves" their work determines how well the equation is solved.
Finding the solution is challenging, especially if there's no measure for success in the job description. That gets compounded if a candidate fails to demonstrate how they work in the interview.
It's easy to see why the hiring process can be so trying for both parties. It's the path where art and science meet on a road less traveled. That's where recruiters become tutors, where we add value beyond our ability to find and attract talent. It's a big part of our job.
So if the job's not getting done I'll invite you to get in touch with me. Feel free to call, the call is free...
1-800-Ken Loyd (536-5693)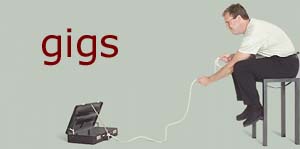 Gigs...It's been a while since my last missive, I've been swamped as usual...but there's always something on my plate you need to hear about So tell me, who do you know -- even if they're not looking -- that's at the best at what they do?
Holy HR ... A "Cool Concept" find featured here some months ago, with an equally cool assortment of swirly goodness. A General of Generalists, an Evangelist of ER and an Organizer of OD. You'll be Directing the development of the culture, systems and touching the hearts of the operators.
Train Me ... Easily the most exciting Director of Training search I've ever been involved with. High-tech, high-touch, high-caliber talent sought with equal parts flexibility and focus to build the program from the most basic of ingredients to Michelin Star quality.
Director of (Un)Real Estate... A green field opportunity, equal parts strategy & tactics with a small foot print, high AUV's and a brand that the landlords are lusting for. National expansion with company & licensed locations and a product that's as addictive as no-fat organic free range PETA approved goodness.
So tell me, who do you know (even if they're not looking) that's at the top of your best of the best list. Who do you know that's interested in managing their career and improving their life style...forward this and remind them to remind me you referred them. I like to return favors!
Other non-published gigs in process -- be sure to check in with me if only to update me on your whereabouts and whatupto's. There's always something up my sleeve.
Cool Concepts:.They bill themselves a tri-cultural phenomenon, a mix of Japanese, Brazilian & Peruvian cultures called Sushi Samba.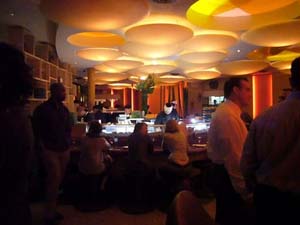 The colors are bright on the walls and on the plates. And there's a definite buzz/energy about the place. But the thing that grabbed me was the "Kiddie Cocktails." What a great way to build the ticket!
Here he goes again...the guy that found Boston Market when it was only in Boston is back again with a healthy concept called uFood.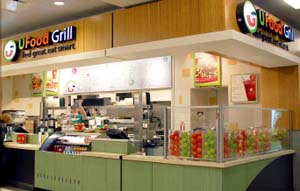 Endorsed by George Foreman and formerly known as KnowFat (aka No Fat Lo Fat) one might think with all this health consciousness they might also be no fun. Hardly so after a quick review of the exec team.
What's up in the world wide web of work... The job market is tight, not because of layoffs but more so because there's not much movement. It's a little bit of a wait and see game whose dice will role for the last time in early November. We'll see the typical holiday lull but I project a robust rally in the first quarter.
For employers, your last chance to buy straw hats in winter will be December. I expect we'll all be competing for talent once again in January.
If you're thinking about changing your career, double check the if/when of any bonus payments, keep tracking your results and start dreaming about that next big step. You might be taking it very soon...
New to Newz..? if this is your first exposure to my pithy missives, welcome to my world wide web of work. I'm an executive recruiter for the restaurant and retail industries. My clients run the gamut from coast to coast and you'll find my placement footprints in marketing, technology, franchising, development, human resources, operations, finance and the occasional title that begins with C and ends in O.
Visit me at the web site below to get better acquainted.
1-800-Ken Loyd (536-5693)

Now, get back to work...!